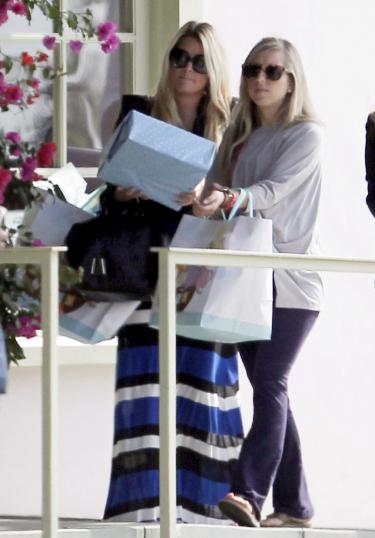 The Simpson clan were spotted celebrating over the weekend. With reports that Eric Johnson has made Jessica Simpson pregnant, we wonder what the occasion was!
She's totes knocked up, let's be real here.
Guests of the Santa Monica get-together include Jessica herself, fellow fertile sibling Ashlee and their proud mother Tina Simpson. Jess got gifts, as you can see.
Ashlee was seen on hand along with her adorable son Bronx, while Jess carried her possibly baby under her loose fitting clothes with objects in front of her.
Standard.
Jessica has yet to announce her pregnancy to the world, but has tellingly not denied the reports that she is with child. Rumor has it she'll drop the baby bomb inside an entertainment news magazine in the near future.